Regular price
Sale price
$15.99 USD
Unit price
per
Sale
Sold out
Create your own masterpiece with our Colorful Flowers Paint by numbers kit. It is the perfect first step for beginners to enjoy the art of painting using our adult paint by number collection. You can easily paint your own wall art, even if you have zero artistic ability. Besides, it can be also framed to be an excellent decoration for your home.
Why you should Order Colorful Flowers Paint by numbers kits:
Relaxing and Joyful: Drawing with Paint By Numbers kit could be very amusing and joyful. The pleasure of creating a stunning work of art is beyond description. It will help you to relax yourself and decrease stress in your leisure time.

Easy Drawing: You don't need to have any basic skill of painting to do this. We will provide you with an instruction manual that's very easy to follow and no matter how good or poor you are at drawing, you will still create a beautiful and exquisite picture.

Gift Choice: If you are in trouble finding an appropriate gift, this is the ideal solution. Paint By Numbers kit is a pretty choice as a gift for Christmas, Thanksgiving Day, New Year, Birthday or other occasions. Besides, it is suitable for both young and adults.

Enhance Relationship: Share the fun of painting with your family or friends. Doing something creative together helps a lot in connecting NEW. It can help to enhance the relationship between parents and kids, husband and wife, girlfriend, and boyfriend when painted together.

Creative and Educational: This activity assists in developing many good habits in children, such as patience, concentration, determination, etc. Also it is a good choice for education as it can help kids to enhance their intelligence and get them interested in drawing.

Intense Decoration: Paintings are highly preferred as beautifying items because of their heartwarming influence. It is a perfect item for decorating home, apartment, office, hotel, restaurant and any other place.
What's In Colorful Flowers Paint by numbers kit?
1x Numbered acrylic paint set (About 24 different colors, depending on the painting)

1x Numbered high-quality linen canvas

1x set of 3 paint brushes (1x small, 1x medium, 1x large)

1x hanging kit, including 2x screws and 2x non-track hooks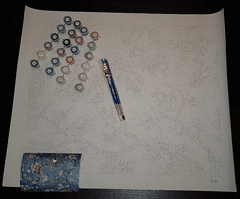 How to make your masterpiece paint by numbers ?
STEP 1: Prepare your canvas paint by number kit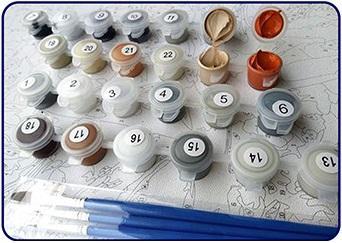 Lay your acrylic canvas out on a flat surface. Organize your paint and apply base layers.
STEP 2: Follow Canvas numbers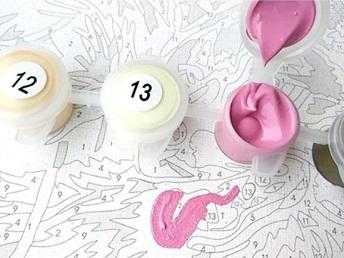 Match the numbers of paints to the numbered areas on the canvas
STEP 3: Enjoy Colorful Flowers Paint by numbers
Stand back and admire your beautiful work! Posting your paint by number in social media is also recommended
Materials

Please note that the colors of the included flowers and grasses may vary slightly depending on the harvest, but we guarantee a harmonious mix similar to the photos, tailored to seasonal availability. We do not accommodate specific color or flower requests.
Dimensions

Our kit provides everything you need to fashion a stunning dried wreath with a spring-themed touch. We've included an abundant selection of natural flowers and foliage to ensure your wreath is as lush as the one pictured in our listing. Expect a delightful array of textures and varieties that will elevate your creation.
Care Instructions

For optimal longevity, we recommend displaying your dried wreath indoors or in a sheltered area, as exposure to the elements may affect its lifespan
View full details